Yes, you can read your eBooks in landscape mode.
Please tap into the center of the screen.
The menu icon will be shown, next tap on the 'Settings' icon.
Please set to 'Landscape' mode on the 'Orientation' window.




Voila! enjoy reading!
The above applies for ePub titles. For PDF titles, ensure the 'Auto-rotate'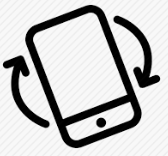 function is enabled.