To listen to an Audiobook, it must be added to "My Loans". Go to your "Library" and click on an Audiobook you want to listen to.
If you choose "Sample", you can listen to a brief section of the book to decide whether you want to borrow this Audiobook or not.
If you choose "Borrow", the title will be added to "My Loans" and you can start listening straight away. Just press "Play/Pause" to start the audiofile.
You can also start listening to your Audiobook by going to "My Loans" and clicking on the "Listen"-button displayed next to your Audiobook.
Listening Menu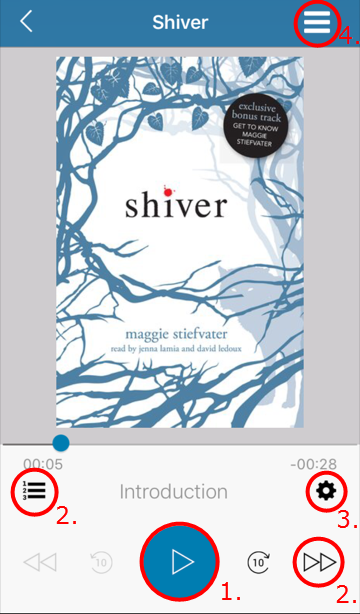 To start or pause the track, press the blue Play/Pause-button in the center of your menu.
To jump to the next chapter, either click the double arrow or use the table of contents icon to choose the track you want to listen to.
The settings icon enables you to download the tracks and you can decide whether you want the tracks to be played with or without pauses.
You can find out more about the title you're listening to by going to the menu icon in the top right corner and selecting "Title Details".