To be able to read an eBook, you first have to borrow it from your eLibrary and add it to your shelf. Go to your "Library", select the book you want to read and "Borrow" it.
You can start reading straight away by pressing "Read". This action will forward you directly to reading mode.
The other option to access your book is to go to "My Loans" and click on the "Read"-button next to the desired title.
Reading Menu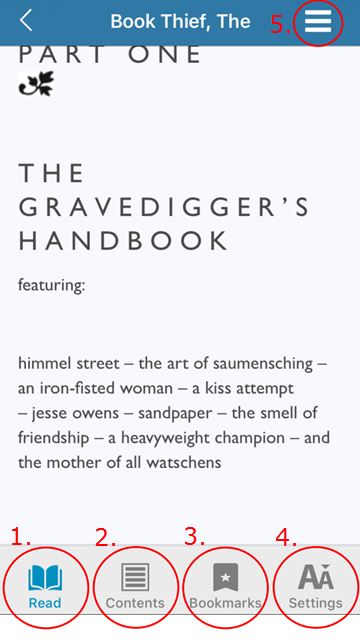 By tapping into the center of the screen the reading menu will be shown.
The "Read" icon takes you to the page, you are currently reading.
To Jump forward or backwards between chapters, click the "Contents" icon and select the chapter you want to go to.
If you click "Bookmarks", you will be able to view your recent locations in the book as well as highlights, if you have any.
The "Settings" icon allows you to customize your reading mode. If you click "More Settings" you can choose font style, background colour and much more or even switch to 'Dyslexia' or 'Night reading' mode. Here you can also enable the offline mode, so you can read your book anywhere anytime, no Internet connection needed.
The menu icon provides quick links to other pages, e.g. 'Return Loan' or 'Loan Details'.